As we have seen in previous posts, the Writing B2 First (FCE) paper consists of two different parts. In the first one, you must write an essay. In the seccond, you must choose among different options. One of these options can be to write an article. For this reason, in today's post I'm going to show you exactly how to write an article for FCE Writing (Part 2). Besides, we will go over an example of an article for FCE and a complete FCE Writing guide, where you can find more examples of articles and other types of FCE Writing tasks.
How to Write an Article for FCE Writing Part 2
An article is a very common type of text nowadays. We can find all kinds of articles in newspapers, magazines, blogs, etc. For this reason, in order to know how to write an article for FCE, we must bear in mind who will be reading our article. This, as we will see later on, we will find out from the instructions the FCE Writing paper provides us with. But before we move on to that, let's take a look at the characteristics of an article for FCE Writing Part 2:
Purpose of an article: The aim of an article is usually to talk about a topic that we like or that we are familiar with. Besides, one of the features that articles have as opposed to other FCE Writing tasks is that an article must entertain the reader and, almos always, recommend the thing we are talking about.
Language: In general, an article is more informal than an essay, although it will depend on where it is supposed to be published (an international magazine, a teenage magazine, a college magazine, an online blog, a newspaper, etc.). However, the most common case is that we must write a text in an informal or colloquial style. For this reason, our tone must be relaxed, making use of contractions, phrasal verbs and other colloquial expressions. Besides, it is recommended to use rhetorical questions and exclamation marks to engage the reader. You should also address the reader directly in the second person (you, your) and can make jokes if you think they are appropriate.
Structure: Articles must always have a title. If possible, this must be catchy and witty so as to engage the reader. Then, each paragraph must address a single idea, to which you must add the introdduction and the conclusion, where you are usually expected to make a recommendation. It is also a good idea to end your article with a rhetorical question, especially if it is going to be an online article where people could (in theory) leave a comment.
Giving your opinion: An article is almost exclusively about giving your opinion, so feel free to do so throught the whole piece of writing. As you are normally asked to write about something you like or enjoy, opinions are expected to be generally positive. Any article for FCE is usually a very personal piece of writing, so you can speak in the first person as much as you like. 😊
Common topics: You may be asked to write articles on a variety of topics: the Internet, health and fitness, music, plays, hobbies, etc.
Number of words: you are expected to write your article in 140 – 190 words, no more or less than any other type of FCE Writing task.
FCE Writing Article Example
Now that we are familiar with the characteristics of an article, the best weay to know how to write an article for FCE Writing is to take a look at an example of an article at First-B2 level. So let's see an example of a task and a sample answer to that very same task.
Instructions of an Article for the FCE Writing Paper

It is extremely important to read the instructions carefully, as you are supposed to obtain all the information you need to write the article. In this case we can see the following:
Where our article will be published: a local magazine
Topic: their favourite things about the Internet
Main ideas: things you do with the internet, recommend a website
And that's exactly how we will organise our article, knowing exactly what to talk about in each paragraph.
Sample answer
Now that we have an example of an article task for FCE, let's take a look at a sample article which answers the task above. Pay attention to the language as well as to the structure marked in red.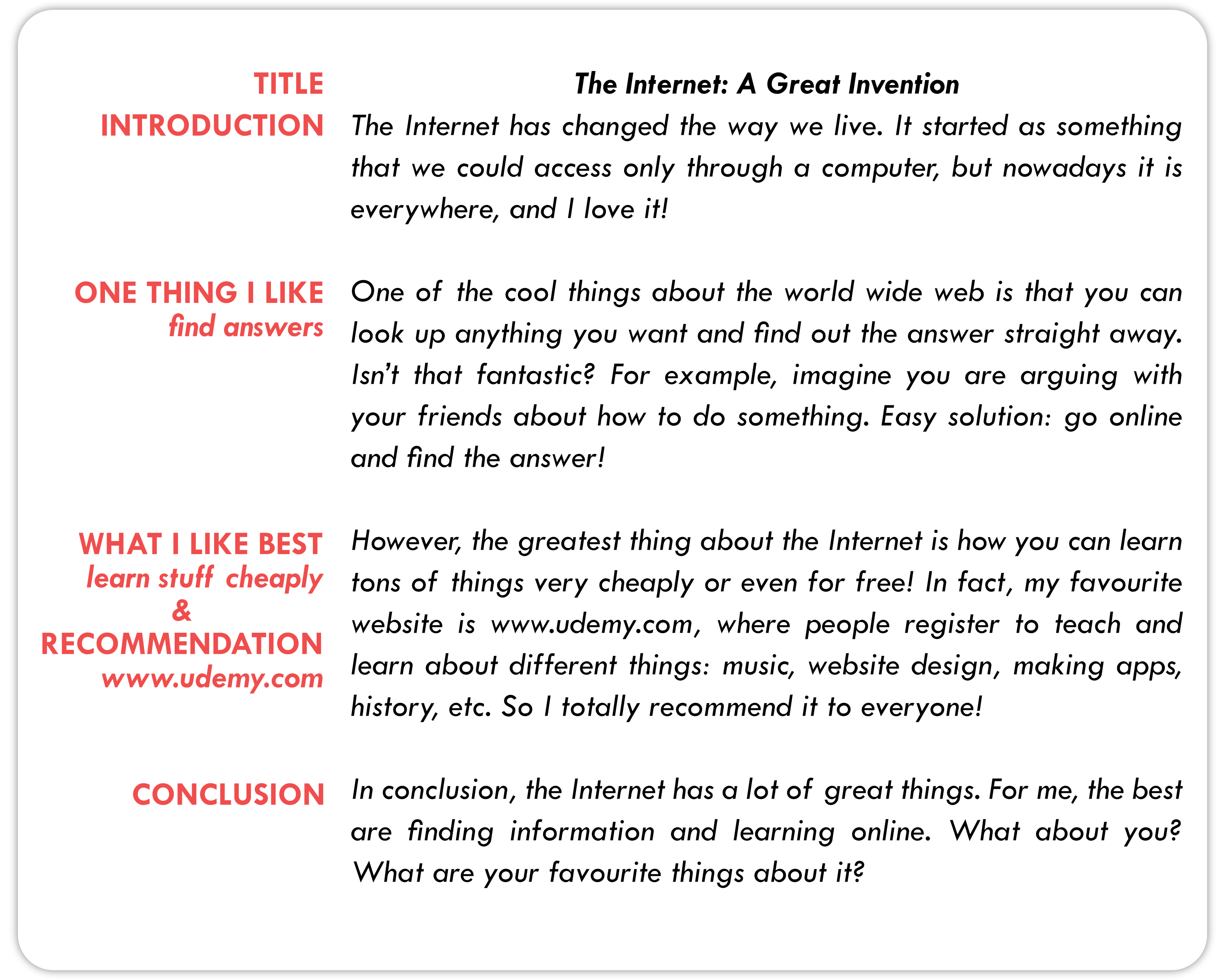 If we take a close look at this sample article for FCE, we can see the following features:
It is visually appealing: The structure is clear, leaving space between paragraphs and defining a clear introduction and conclusion.
Each paragraph has a clear objective, as my comments in red indicate.

The introduction presents the topic in a general way, but making clear what article is about: the Internet.
The second paragraph talks about why I like the Internet and one of the things that I like about it.
The third paragraph makes a recommendation of a website, explaining why I like it so much.
The conclusion is a summary of sorts and asks the reader for some feedback on their own preferences regarding the use of the Internet.

The language is informal:

Phrasal verbs: put you up, check out.
Contractions: Isn't that fantastic?
Colloquial phrases: one of the cool things, I totally recommend it, etc.
We address the reader directly: What about you?
Exclamation marks: …find the answer!
In this example of article for FCE Writing we can appreciate many of the typical characteristics of this type of activity. However, bear in mind that I have tried to simulate a strong B2 level without necessarily reaching C1.
Useful Expressions to Write an Article for FCE Writing
If you want to know how to write an article for FCE, it is very important to have a repository of useful expressions ready to use. So here are some which can come in handy:
Rhetorical questions:

Have you ever…?
Do you ever wonder…?
What do you think about…?
Are you a… like me?
Are you one of those people who…?
What would you say if I told you that…?

Introducing new ideas:

Firstly,
First,
In the rst place,
To begin with,
The coolest thing about
What attracts me most
One thing to consider is
Another consideration is
Secondly,
As for
As to
Also,
As regards
In addition,
In addition to that,
Moreover,

Concluding the article:

In conclusion,
On the whole,
To sum up,
To conclude,
All in all,
… you will not regret it!
Frequently Asked Questions: What if I write more than 190 words?
As I already explained in previous posts, Cambridge Assessment English does not count how many words you've written in order to penalise you. But remember the following: if you have written a lot more words than necessary, you have probably included irrelevant information. In the same way, if you write less than 140, you are probably lacking essential information. For this reason, I always recommend writing only 10 or 20 words over the limit. In this way, we make sure we don't lose points for something so silly.
FCE Writing with Examples (pdf)
If you're still looking for more examples of writing, check out KSE Academy's official FCE Writing Guide. In this guide you have the following:
How to write an essay and 3 examples
How to write an article and 3 examples
How to write a review and 3 examples
How to write a report and 3 examples
How to write an email or letter and 3 examples
Over 300 useful expressions for FCE Writing tasks
Would you like to see a sample first? Here you are!
---
Did you like this post? Please share it with other students and English teachers. Subscribe to our newsletter and don't forget to follow us on Facebook Twitter, Pinterest, Instagram,& YouTube. 🙂