As you probably know already, Cambridge English exams usually have some or all of the following parts: Reading, Writing, Use of English and Listening. In this post I am going to talk about the FCE Writing B2 part and, more specifically, about how to write an essay for FCE Writing. We will see a good example of an essay for FCE and you can check out a full FCE Writing Guide where you can find more examples of emails, letters and other types of writings.
What are the parts of the FCE Writing?
The First (FCE) Writing has only two parts. For each part, you must write a composition which will depend on the instructions you receive for each task. For the first part, you will always be asked to write an essay, as it is the only option provided. However, in the second part, they allow you to choose one out of 3 options. These include different types of writing, which are: letters/emails, articles, reviews and reports. Each piece of writing must have between 140 and 190 words, approximately.
Since they are different types of writing, the language and structures to use will also differ. But that's what I'm here for, to explain to you exactly how to write each part. And today, I'm starting with how to write an essay.
How to Write an Essay for FCE Writing
An essay is an opinion writing with which we analyse a topic, a situation or an issue from different points of view, providing different arguments and expressing our opinion about it. For this reason, an essay must have the following features:
Purpose: What we usually do with an essay is to analyse and assess a topic, situation or issue which, in some way, is interesting or controversial. It is normally set as a writing task after a class debate. In the exam, you have to imagine the debate, obviously.
Tone and style: Given that you're writing about a serious or controversial issue, an essay is written in a formal style, so we must stick to an objective tone and style. Our language must be formal, thus avoiding words that are simply too common or generic (E.g.: things, stuff, get, etc.) and contractions (E.g.: can't, don't, won't, etc.).
Structure: Like every piece of writing, an essay must present a defined structure. For starters, we can choose either to give it a title or not. Personally, I would say that it is more appropriate to have an essay with title. Then, the body must be divided into introduction, idea 1, idea 2, idea 3 and conclusion. This means that, in general, essays must have 5 paragraphs, although it is not entirely necessary.
Opinion: There are countless ways of expressing your opinion in an essay, so you must choose the one that suits you best. However, it is advisable to remain impartial throughout your writing and give your opinion only in the last paragraph, as a conclusion. But, as I say, it is optional. The most important thing is that you justify everything you say in your essay.
Coherence: Coherence is essential in every type of writing, but especially in an essay. As it tends to be an argumentative text, you must avoid writing incoherent paragraphs that have nothing to do with one another. Your ideas must follow a logical order and be well connected with appropriate linkers.
FCE Writing Essay Example
Now that we are familiar with the characteristics of an essay for First (FCE) Writing, let's take a look at an example of an essay at B2 level, both at the task and at a sample answer.
Instructions of an Essay
In the following image you can see the instructions of an essay which involves a typical topic, that of the environment: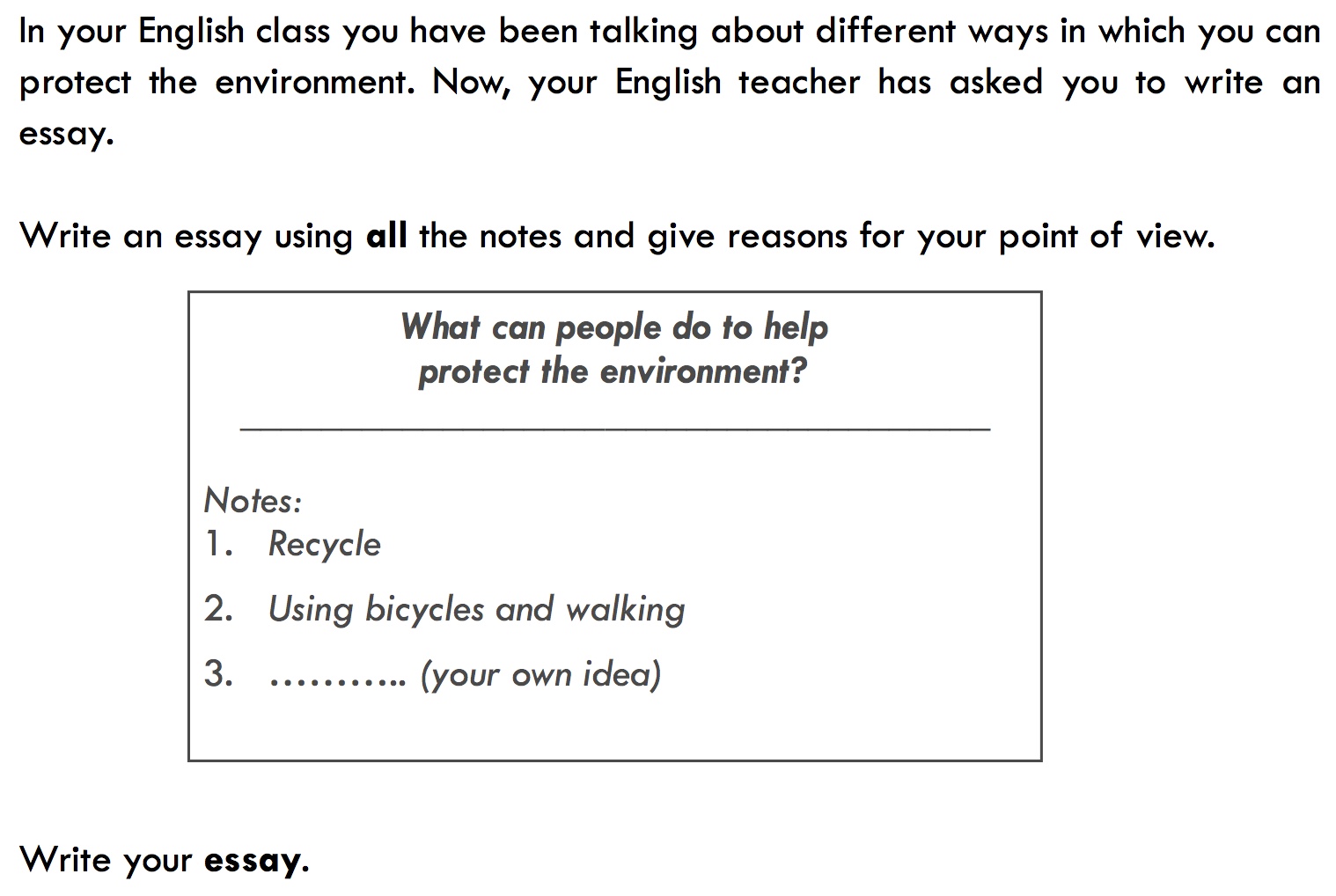 In these instructions, we must pay attention to the following:
The first paragraph introduces the topic: …different ways in which you can protect the environment.
The second sentence is usually the same in every task: Write an essay using all the notes…
In the box, you are given the main topic as a question and they give you something to talk about: recycle, using bicycles and walking, your own idea. As you can see, you have to come up with the third idea, something connected to the topic which is not provided in the exam task.
Essay Sample Answer
Given the model task above, each paragraph will correspond to a different idea, apart from the introduction and conclusion. Again, it is only natural to have 5 paragraphs. So, the best way to know how to write an essay for FCE Writing is to take a look at an example of an actual essay for FCE Writing: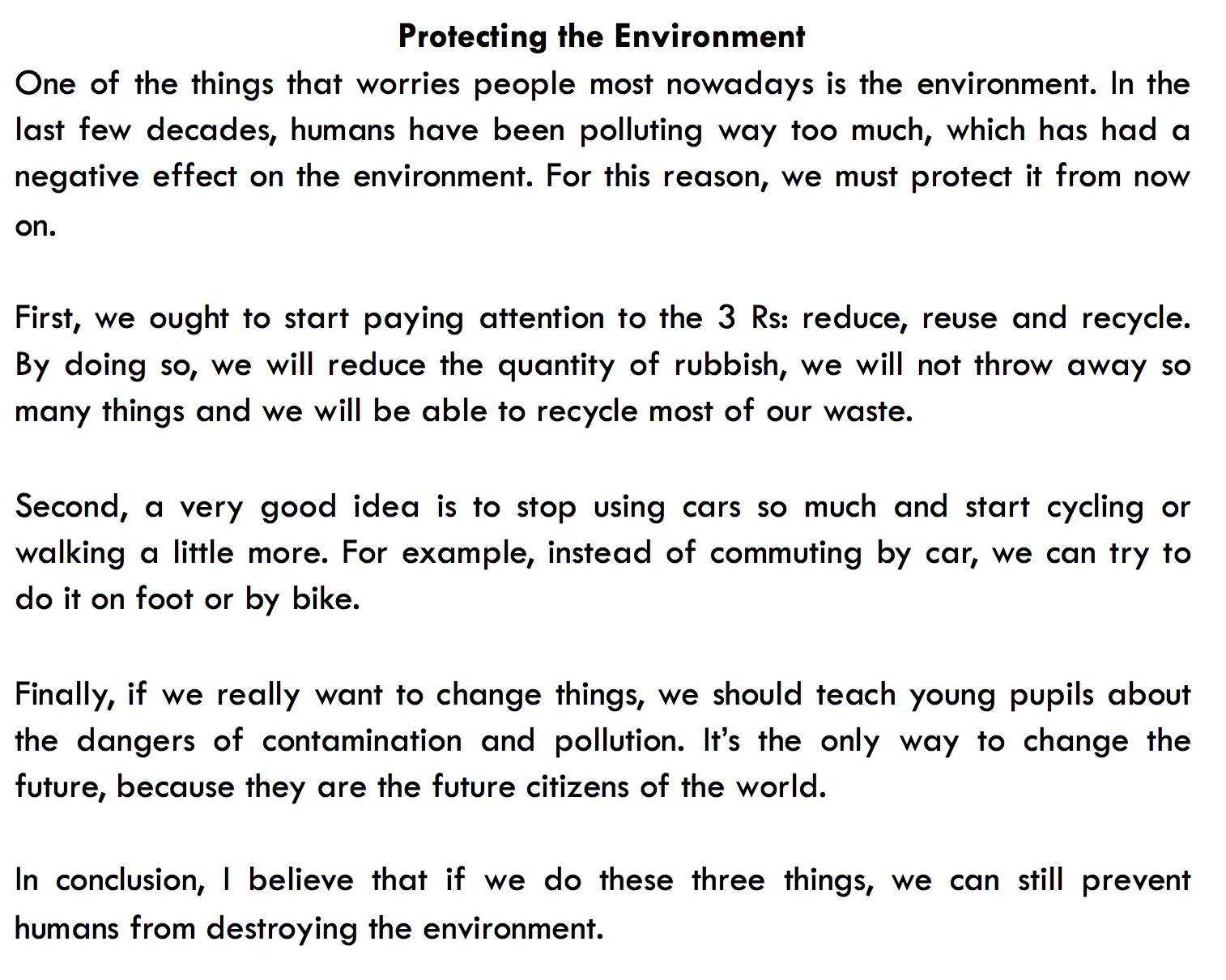 At first sight, the essay has a title and 5 paragraphs (introduction + idea 1 + idea 2 + idea 3 + conclusion). And if we stop to read the essay more carefully, we'll notice the following things:
The paragraphs are visual and well defined, which is very important.
The title summarises the topic of the essay. Another option is to use the question (What can people do to help protect the environment?) as title. However, it usually tends to be too long, so I prefer to summarise it into a shorter heading.
Each paragraph has a clear purpose:

Introduction: it introduces the topic in a general way and it leads to the second paragraph (first idea).
Paragraph 2: it deals with idea 1.
Paragraph 3: it deals with idea 2.
Paragraph 4: it deals with idea 3.
Conclusion: we express our opinion to conclude and summarise the essay.

It uses connectors to define the development of the essay: firstly, second, finally, etc.
It doesn't use many contractions or pet words.
Among the useful expressions, we can highlight the following:

One of the things that
In the last few decades,
For this reason,
First, / Second, / Third,
Finally,
By doing so,
For example,
In conclusion,
This is a good example of an essay for FCE Writing. By the way, you must bear in mind that it has been written to simulate a strong B2 level, without reaching C1.
FAQ: Do I get penalised for writing over 190 words?
This is the most typical question in this part of the exam and the answer is «yes and no«. Let me explain myself. Cambridge English examiners don't count the number of words and penalise you based upon that fact alone. There's a rumour going around among teachers and pupils that says that for every 10 words over 190, they take «this many» points off, but it is not true. However, think about this: if you've written 50 or 100 words more than asked, you are probably including irrelevant information to the task, right? Now that's a reason for losing points. In the same way that if you write under 140 words you are probably missing essential information, don't you think?
For this reason, I always recommend writing up to 10 or 20 words over the limit. In this way, you won't lose any points for including irrelevant information.
FCE Writing Guide with examples (pdf)
Although I intend to write more posts on how to do each piece of writing for FCE, if you don't want to wait any more, simply download the official KSE Academy FCE Writing Guide. In this guide you will learn:
How to write an essay and 3 examples.
How to write an article and 3 examples.
How to write a review and 3 examples.
How to write a report and 3 examples.
How to write an email or letter and 3 examples.
Over 300 useful expressions for every FCE Writing.
Would you like to see a sample of this guide? Here it is!
---
Did you find this useful? Why not share it with other teachers and students of English? Don't forget to subscribe to our newsletter and to follow us on Facebook, Twitter, Pinterest, Instagram, y YouTube. 🙂